Homer Grows Up
Dad's first charge was Troy and Birmingham, Michigan United Presbyterian Churches from 1898-1905. On April 12, 1900 he married Edith Abigail Hutchison, later to be my mother, whom he had courted while in the Seminary at Xenia, Ohio. It was to Birmingham he took her as his bride. I was born November 18, 1903 in the home, of course, as babies were never born at hospitals at that time.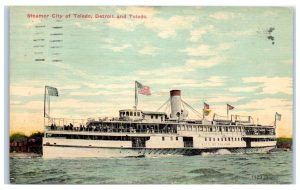 I do not remember anything about life in Birmingham but do recall making a visit with my parents to Toledo, where we boarded a lake steamer for Detroit. It was so crowded that Dad had to sleep on a cot in the steamer auditorium while Mother and I shared a stateroom with another woman, a saloon keeper's wife, much to the displeasure of Mother. Bathroom facilities included a washbowl with pitcher the slop jar. I was much too young to be embarrassed and yet it sufficiently impressed me so that I recall the experience. A bad storm made the overnight voyage disturbing. After reaching Detroit we visited a park where they had a clock that worked which was made of flowers. We spent some time at Lake Orion. It is where I first saw baptism by immersion and I was glad our church did not follow that custom. Dad took me fishing with him and pulled out one after another. The water was so clear you could see sandbars five feet under the water.
Birmingham is seventeen miles out Woodward Avenue from downtown Detroit and has since become a fashionable residential area. Mother maintained contact with some of her friends, one of which was Mary Todd. When I needed a birth certificate during World War I, Mary Todd contacted the aging doctor and obtained a delayed birth certificate.
---
Trip West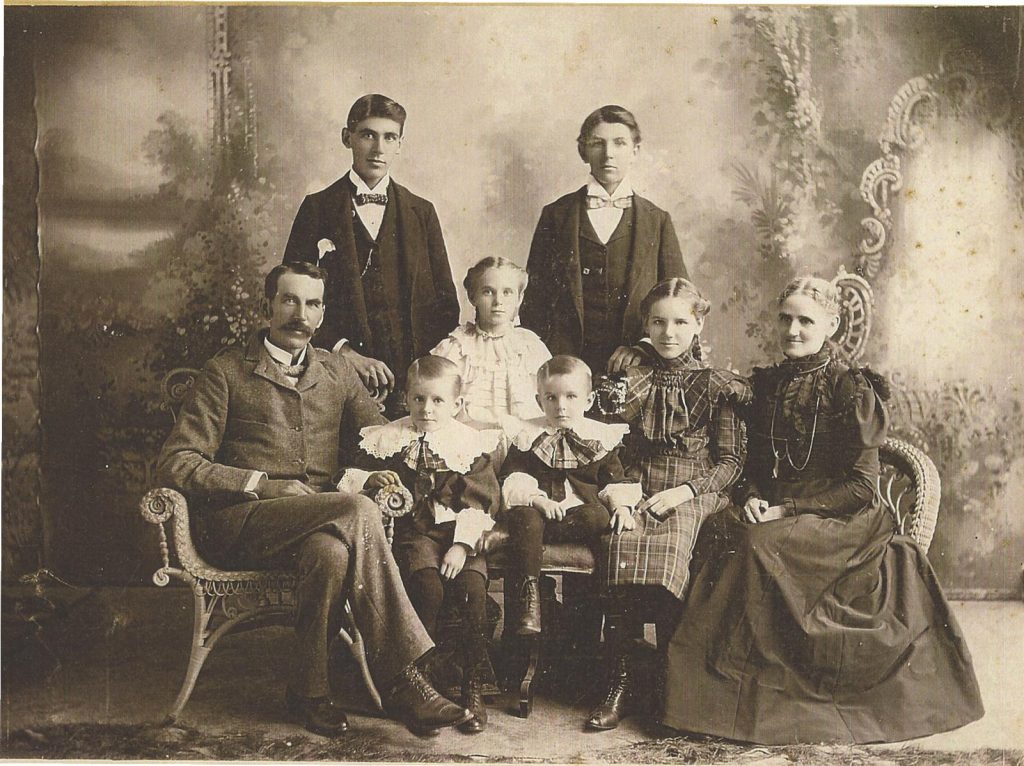 It must have been 1906 between my father's pastorates at Birmingham and Glade Run that we took a trip out West. I was about 2-1/2 years of age and remember the Gabby boys took a load of pigs to market. To protect them from the blazing sun the boys cut brush along Turkey Creek which they placed over the wagon. I was thrilled that Lee, (later, Dr. Lee Gabby of Elin let me ride beside him on the high wagon seat. It is dry in Pawnee County, Nebraska and Turkey Creek only has water in it after a rain. The only place there are any trees growing is along the creek.
On this same trip, we visited my mother's Aunt Rebecca, who was a missionary at the Tama, Iowa Indian Reservation (The Meskwaki Nation https://www.meskwaki.org/). There I was allowed to play with a little Indian boy. His mother baked cakes on hot stones for us and when she got hot she just dumped a bucket of water over her head. I wish I knew my little Indian friend's name and what became of him.
---
Glade Run
My father's second pastorate was at Glade Run United Presbyterian Church at Cooperstown, Pa. Cooperstown is about half-way between Pittsburgh and Butler. We arrived by the Butler Short Line Street Railway at Valencia and rode to Cooperstown with Mr. James Snyder, the mail carrier. As our furniture would not arrive for some time we stayed with the Snyders who ran a sort of boarding house and livery stable. Mr. Snyder was a great talker and some of my memories of life at Glade Run should be credited to him. He told that after the first Sabbath morning services we were eating dinner and apparently I thought Dad should be given more praise. He says that during the meal I said, "Father, I want to tell you that you preached a mighty fine sermon."
There were two Snyder girls, Edna soon married and Grace became my babysitter. When she was married after we left Glade Run, they had Dad back to perform the ceremony. Mr. Snyder was still living when Jean and I lived at Freeport and he came to see us. He never could stop telling Betty, Ann and Clark stories about me.
At that time there was a plank road from Pittsburgh to Butler (Butler Plank Road) with toll gates every few miles. A toll gatekeeper lived in the toll gate house and when you approached the gate you rang a bell. At night a lantern was hung on the toll gate. The toll gates were discontinued soon after we went to Cooperstown but the plank road remained for many years. It was made by placing 2″ by 8′ planks across the road on sleepers which ran lengthwise. Every so often there was a wide place for passing. The plank road was a wonderful place for sledding and nearly every youngster had a bobsled that eight or ten could ride. The bobsled consisted of two sleds at either end of a plank with the front sled attached to the plank with a rivet so you could guide the sled. We could ride very fast the mile or so from Cooperstown to Glade Mills. Bobsledding was the principal recreation. The plank road has now been replaced with the more modern Route 8.
One year around this time of my life, we were to meet Great Grandmother Brownlee in Washington, Pa. and go to grandfather's. I think some of the Buchanans came with Great Grandmother Brownlee. At any rate, Grandfather met us in Washington with a two-horse surrey leading a one-horse buggy. He took Great Grandmother in the buggy with him and left Dad to drive the rest of us in the surrey. The road was made of chipped stone. The kingbolt holding the front axle to the surrey broke as the horses were running. The horses went on with the two front wheels while I pitched out of the front seat over the dashboard striking a sharp stone which cut my upper lip. It required several stitches which I vividly recall Dr. Snodgrass making while Dad held me without an anesthetic. No one else was injured and I suppose the horses and carriage were rescued. You can still see the scar on my upper lip.
This accident took place on August 26, 1908 and was reported in the Cannonsburg "Daily Notes" the next day.
---
Oil Prospecting

At that time Cooperstown was an oil boom town. Many of the houses were made of the cheap vertical siding construction with 2-inch wide battens covering the cracks between the vertical boards. Bobby Marshall was an oil well driller and he wanted Dad to take a share in a new well he was drilling. Dad, being a preacher, considered oil prospecting somewhat of a gamble and likely did not have the money so he declined but Bobby insisted on cutting him in for $100; therefore, we attended the shooting of the well. That was done by carefully lowering cans of nitroglycerin to the bottom of the well when the drilling reached the oil-bearing strata and setting the blast off by dropping a metal weight. When the explosion came the oil gushed higher than the derrick, filling the small creek nearby. Unfortunately, the well did not continue flowing as some did but had to be pumped regularly.
Bobby Marshall and his wife had no children so they adopted a boy and a girl. The boy was named Bill Fleming and the girl was Glee Truver. One night we were dinner guests of the Marshalls and Glee and I played in the kitchen. Bobby had left a half-smoked cigar on the edge of the stove and I tried my first cigar. It's too bad it didn't make me sick so that I would not smoke today. It was at the time William Howard Taft was running for President and the big fat cigars were called Taft cigars. Taft was fat, too. After we left Glade Run, Mrs. Marshall died and Bobby married Glee and had several children by her. As she was much younger and Mrs. Marshall had been such a Christian lady, the marriage of Bobby and Glee was frowned upon by the good church members.
William Howard Taft was President of the United States from 1909-1913. Weighing over 300 pounds, Taft was the country's largest president. A special bathtub had to be installed for him at the White House.
---
Starting School
It was here that I started school at the two-room building at Glade Mills. My first teacher was Miss Truver and the class was the Chart Class. It was an honor at our school to be selected to take the open bucket to the well outside of the building for water. The bucket was placed with a dipper on a bench in the back of the room. The teacher had to get there early to start the fire and get the room warm. My mother provided me with a collapsible aluminum cup so I would not have to use the common dipper.
Our favorite pastime at recess was pitching tobacco tags. Tobacco tags were to be found on every plug of chewing tobacco and every boy made a fetish of collecting them. I remember one was called "J T" and another "climax". Although Mother did not approve of gambling, she considered the game of pitching these tags a game of skill and made me a drawstring pouch to keep my tags.
My second teacher was a man. One day Bobby Marshall's adopted son was shooting spitballs and I told the teacher since I had been taught at home to be helpful. The teacher responded by paddling young Fleming and much to my discomfort had me stand in the corner for tattling. While I was there in the corner I saw my Dad approaching the school. Fortunately, the teacher met him at the door and answered his questions without admitting him and I was saved from more punishment I would have gotten at home.
My closest friend was Red Brown. When we stopped to see him with Judy and Lee several years ago he came out to the car with the declaration that he had many things to tell them about me. It wasn't as bad as I anticipated.
---
Car Lights and Christmas
Dr. Lawrence A. Stepp was our family physician. He must have liked me because he took me along with him to make house calls in his car. It had acetylene lights. The tank generator was on the running board. When the road was rough the water dripped on the calcium carbide too fast making the flame in the headlight come out of the lamps and we would stop and adjust the water. When we reached a smooth road the water did not drip fast enough and we had to stop to adjust the water again. One time a rear axle broke. I was riding in the back seat alone and he told people it was my weight that caused it to break. My weight was perhaps fifty pounds at the time.
I recall well the first time many of us saw an automobile with electric lights. I think it was a Mercer. Everyone crowded around it to touch the lights which were cool while acetylene lights were always hot.
Mrs. L. H. Stepp was my first Sabbath School teacher. Their son, L.H. Stepp, Jr. became a doctor and practiced in nearby Mars, Pa.
It was at Glade Run I had my first Christmas tree. Aunt Anna, Uncle Will, and Raymond Cherry were coming. A church member from Evans Station on the Butler Short Line contributed the tree. We strung popcorn and cranberries for tree decorations. I got a Bible that year for my present. Mother thought that if you encouraged a child to believe in Santa Claus, the child learning of this later would tend to disbelieve other things he or she was told. That, however, did not prevent the church from having some great Christmas programs. One was especially memorable to me. At the close of the service, we turned at the sound of sleigh bells to look to the back of the church and saw four elders bearing a sleigh followed by Santa Claus carrying the shafts. They placed the sleigh on the platform and invited Mother and Dad to come forward and sit in the sleigh. Then they asked me to see if I would fit in the middle. Upon my being seated they presented me with a plush lap robe with an appropriate bear design.
One day we were invited for dinner at the Knauffs farm home The daughters were Edith and Hazel. Hazel was about my age. We unhitched the horse from the sleigh in the barnyard and put her in the stable. When we came to go home we found the cows had eaten a hole in my plush robe. Mother tried to replace the design with colored yarn. We have the robe today and you can see where the cows ate.
---
Four Legged Duck
Our same friend from Evans Station that donated my first Christmas tree also gave me a four-legged duck. It was said to have been hatched from a double-yoked egg. The two back legs never grew and as the duck approached full growth it dragged the small hind legs along in the grass. One evening the duck did not come home and we found it with its hind legs caught in the wet grass. It died shortly thereafter, much to my sorrow.
When we first lived at Cooperstown we did not have a bathroom. One day Dad dropped his large gold pocket watch down the two-holer. To recover it he turned over the outhouse on its side and fished with a garden rake until he snagged the watch. He placed it in a bucket of water to keep air from reaching its works, which would cause them to rust. He then took it to a jeweler who was able to clean it and restore it to usefulness. When we got a bathroom, water came from the cistern and pressure was provided by a pump in the cellar which pumped water through the pipes. Periodically we would let the cistern run dry and Dad would get into the cistern through a removable lid and wash down the walls. We had to conserve water or the cistern would run dry.
One year Mother kept me home from school with a cold but I wasn't seriously sick and when I could avoid her I slipped out the front door to tack a yellow card to the wall. It had "TONSILLITIS" written on it. Quarantine signs were then used frequently for serious contagious diseases. The sign was not large enough for passersby to read from the street. Dad wondered why we had no callers for a day or two until he discovered the sign. Then he knew people thought we were quarantined. The only time I can recall we were quarantined was when I had whooping cough.
There was a family of questionable reputation in our church from Adams Station on the Butler Short Line. One time Dad was invited to hold the weekly Wednesday Night Prayer Meeting in their home. Mother did not attend but 1 went with Dad. I remember that every so often the man of the family would sing out "Amen" or "Praise The Lord" a custom we United Presbyterians thought was only followed by the more evangelistic Methodists. When we got home Mother made me take my clothes off on the back porch so she could be sure they were sanitary.
There was a creek near the Butler Short Line and at night we could see lights all along the creek. There were fishermen jagging fish with spears. The fish were attracted by the lights. This practice has long since been illegal.
---
Airplane Race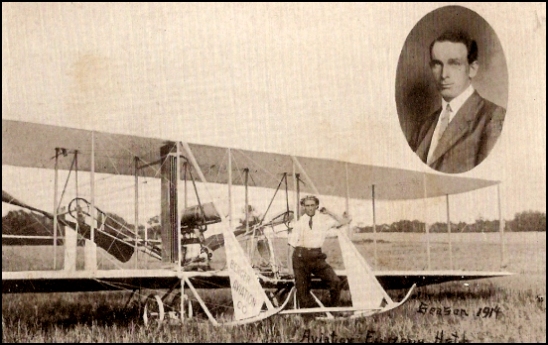 Dad took me to see my first airplane at the Butler County Fair. It was roped off so visitors could not get too close. It was made of wood stays covered with thin cloth. Another time he took me to see a race at Schenley Oval in Pittsburgh between a motorcycle and an airplane. The motorcycle won but it was because the plane could not turn as sharply and traveled further. After the race Dad took me to meet the airplane pilot whom he had known in Birmingham.
The pilot Homer met was most likely Eugene "Wild Bill" Heth who flew in Pittsburgh at Schenley Park in 1914 as part of the "Post-Sun Free Exhibition" .

Heth and his Wright aeroplane raced against A. G. Schmidt and his Indian motorcycle.
Another boyfriend of mine was Bill Lkas. Once when we were visiting him we played in the barn. I climbed up the horse stall wall, the upper part of which was made of slats. One of the slats came loose and I fell backward. I threw out my arms and my left arm struck the manager. I think I received a green stick fracture but we never told our parents.
A family in the congregation named Kaufman had a new beautiful red brick home. One night it got on fire. The only thing saved was by their daughter who was about my age. She grabbed a ball of rags sewn together in preparation to make a rag rug.
The gas company manager was named Perkins. He was transferred to Butler. They had a daughter about my age named Marion and another named Glee. We visited them in Butler. Marion had roller skates and I persuaded Mother to get me a pair. I never enjoyed roller skating, however as I got blisters on my heel the first day.
Ruben Park's family were staunch members of the church. They even came to visit us several times after we moved to Peters Creek. One time we were at their place for an all-day gathering in early winter. They had a feed mill with a mill race. The older boys wanted to skate but were afraid the ice was too thin and they persuaded innocent little me to try the ice. I went through the ice and they lugged me off to the house basement to dry out my clothing which they hung around the single, centrally located stove. I was given a pair of long-johns which belonged to Gladys Parks who was about my age. This was very embarrassing to me. Gladys had an older brother Bill and a younger brother Crawford. I blamed Bill for getting me into that situation.
---
Horses
Our first horse was named "Nellie". She was spirited and one winter after she had not been used for awhile she started to kick out the sleigh shafts. Dad tried kicking straps but nothing would do any good. When she would start to kick Mother would gather me under her arm and jump. Finally, Dad loaned her to a farmer who hitched her with a draft horse for spring plowing. There she could not break any shafts and the heavy work could take the spirit out of her. This failed, however, so Dad had to sell her. To get another horse Grandfather Maxwell came and went with Dad to Pittsburgh. Grandfather was supposed to be a better judge of horseflesh. Luckily, he was. They came home with "Maize".
Maize had been a member of the Pittsburgh Police Force and still had on rubber insert shoes which made little noise on the plank road. Maize turned out to be wonderful and we took her with us when we moved to Peters Creek. She would stand without our tying her to a hitching post if you dropped the lines from her bridle. I was able to ride her. Sometimes she would swell up her belly when you started to tighten the saddle girth and later the saddle would turn under her belly. I learned how to out-fox her. I would tighten the girth, turn away, then quickly turn and give the girth another notch. The only trouble was when we left her out in the pasture at night. Soon we would find that she would jump the fence and would not be in the pasture in the morning. Of course, she had been trained to jump fences as a police horse.
I think the first time I began to suspect girls were different from boys was when I played with Genevieve Harbison and Mary Lawton. Genevieve lived across the street and Mary lived next door. Sometimes when we were playing together they would take me with them to the outside toilet. I am sure Mother did not know since she never allowed me to see her not fully clothed. At any rate, I got a good paddling one day when Mother caught us coming out of the outhouse. Mother never knew about Glee Truver and I jumping in the hay from an overhead beam.
One day Dad had a paperhanger paper his study. When the paperhanger had gone home I found he had left a partly used pack of "Five Brothers chewing tobacco on the window sill, which I could not resist trying. It made me sick but did not prevent me from following the custom of chewing later whenever I became a coach at Cecil Township High School.
---
First Suit
It was while we lived at Cooperstown that I got my first readymade suit at Boggs & Buhls. We went to Pittsburgh on the Butler Short Line from Valencia. We passed the Heinz factory where we could look through the windows and see the workers. I remember seeing "TO LET" signs on many houses along the street and wondered why they needed so many toilets.*The Van Sluy painting of farm animals in our living room came from the Buhl home on Fifth Avenue. It was purchased by Aunt Hose at a public auction held after the Buhl parents died. Boggs & Buhls were then one of the best department stores in Pittsburgh situated just across the bridge in old Allegheny.*One of our Glade Run Church members was caretaker for Mayor Babcock at his summer home. The road was named Babcock Boulevard in his honor. One time when I was there with Dad the old German was working around the barn and said "Kaput gegagen" When I studied German later in college I asked my instructor, Feulein Barr what "kaput gegagen" meant. She said, "Never let me hear you say those words again!" It seems that it is used in Germany as "Go To Hell" is used here.*The years at Glade Run were good years. Maybe we just remember the things we want to remember but I cannot recall any dissatisfaction with my father as a pastor which is also true of his other pastorates. Maybe as the preacher's son I was sheltered but Dad was always well loved.
---
Tragedies
Life was not without tragedy. Once lightning struck the Harbison home. It ran along a gas pipe to an upstairs bedroom where it burned a neat hole in a baseball uniform which the Harbison mother had spread on the bed after ironing. Another time it killed a Cruckshank boy standing in their barn doorway during a thunderstorm. The worst tragedy was one morning when Mr. and Mrs. Hays went to the barn for milking after starting the kitchen fire. The house caught fire and they found the charred bodies of their five children with little bits of night clothes under their arms. I attended the mass funeral and remember crying a little as I recalled their coming regularly to school. The eldest was a boy about my age.
This tragedy took place on July 3, 1913. All five children of Mr. and Mrs. Albert Hays died in the fire. They were Howard (11), Ethel (7), Mary (5), Robert (3) and Willard (9 months).

From the Pittsburgh Press
The greatest personal tragedy for me was October 17, 1912 when my little brother, 1 year and 14 months old, died. He had been sick for about a week with something called Cholera fantum. Uncle Clark and Aunt Rose planned to be married in our church October 16. She had been head nurse at Allegheny General Hospital. She and Uncle Clark came out from Pittsburgh to help Dr. Stepp care for little James Clark. It was decided, to go ahead with the wedding as planned and a few of their friends came out from Pittsburgh for the wedding. Of course, they gave up their honeymoon for the time being. They brought along a nurse, Miss Herman to look after James Clark but he passed away the day, following the wedding. Mother never quite forgave herself, believing that if she had not been so involved with the wedding plans, she would have given more attention to James Clark and maybe he would have lived.Grandfather, Uncle Clark and Dad together purchased a cemetery lot in the Washington, Pa. Cemetery and the body was shipped by train. I remember picking up the body in the casket at the Washington Baltimore & Ohio Railway Station and following the hearse to the cemetery. His body lay alone in the lot until my grandfather's death in 1926. I can recall, following James Clark's passing, going out in the cornfield back of the parsonage property and kicking the cornstalks while tears slowly rolled down my cheeks. Boys were not supposed to cry in those days.